"One of the few living people who knew Walker personally."
I was greatly honored to be included in the recent documentary about American architect Ralph Walker (1889-1973), and, yes, the sentence above was used to introduce me. The film was Ralph Walker, part of the PBS "Treasures of New York" series, aired on October 5, 2014. It can be viewed here.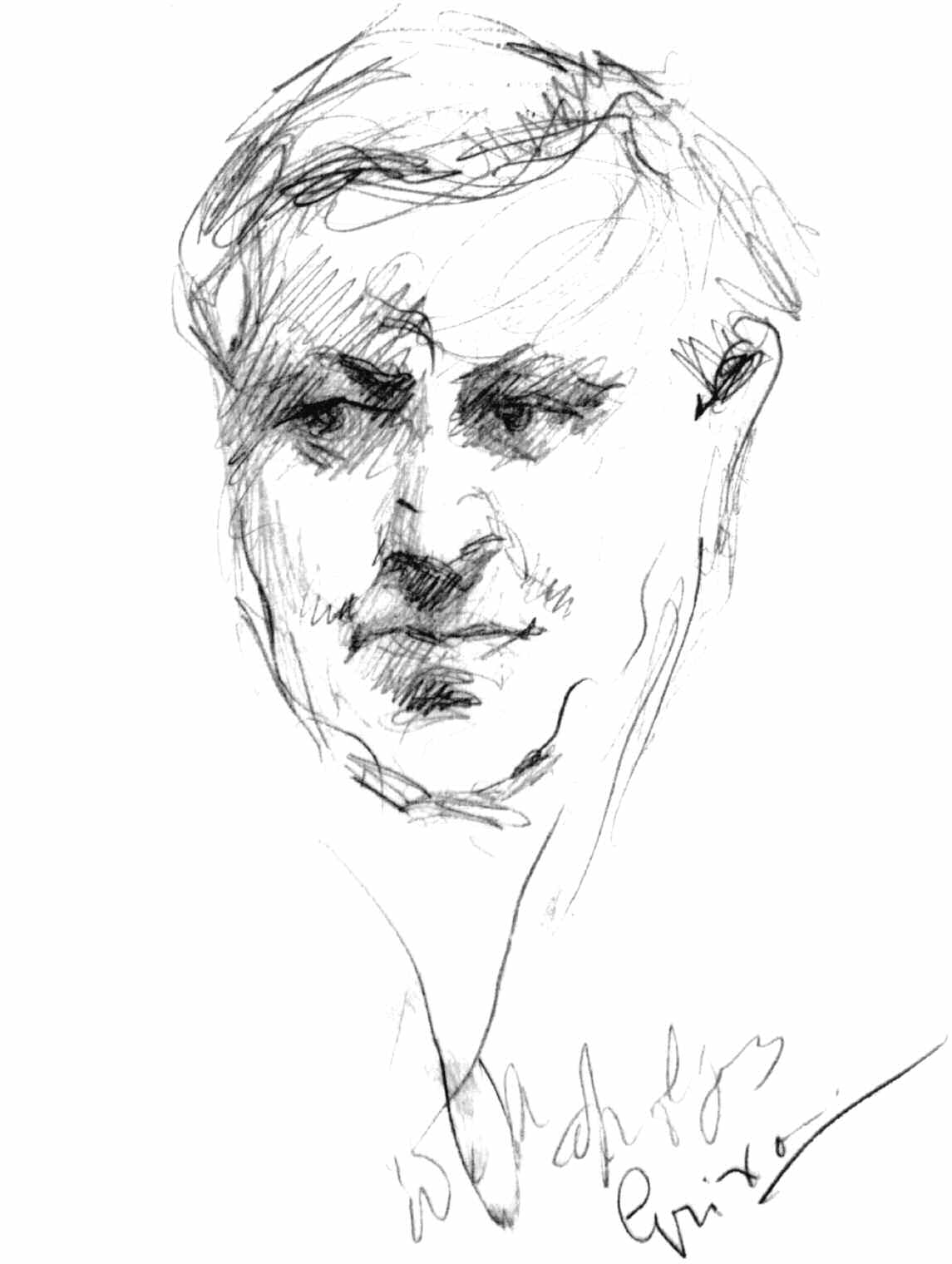 Ralph Walker
sketch from
architectsandartisans.com
Sort of a new way of thinking about myself, I suppose. While I won't comment too much about the "time distance" between then and now, I was indeed very fortunate to have met Ralph when I was a young man. For some reason, when I first came to New York, Ralph took a great interest in the young man from Virginia, and for the next six years he and I had a very special friendship. He introduced me to many people he knew, and seemed to delight in having me – and my sometimes girlfriend in those days – come to Walkerburn – his beautiful home in Chappaqua – for week-end visits. With his housekeeper and cook Louise we had many good times (and shared wonderful meals) and had long, long conversations about ever so many things. He was a widower (his wife had died a couple of years before I met him), and he and Louise seemed to take a special interest in me (or us) as their guests.
And in New York itself – on his several-times-a-week days in the city – Ralph took on the very easy task of speaking with me about art, architecture, music, the theatre, New York's history, the Murray Hill neighborhood (where I lived – and still live), and the myriad other subjects in which we both shared interest. And it was an easy task, too, for I had never met anyone quite as knowledgeable about so many subjects as Ralph was. I was a very receptive audience and although he spoke often about how much he took from me – about young people, "modern life" (he loved to say that), and similar topics that emphasized our differences, now as I remember our friendship I'm convinced that I was the real beneficiary of this interaction between two people from such different times (we were 51 years apart in age I later figured out).
We also did a lot of things together, since he was an avid opera fan and enjoyed the theatre, as I mentioned in the documentary. He was an avid museum goer, and I certainly couldn't resist when he asked me to come along to one of the city's great museums (he specially loved the Metropolitan Museum of Art, not surprisingly since the "gentleman's office" he designed for one of his buildings was once displayed there in an exhibition of contemporary office design). And I have a memory of being told that he designed the Grace Rogers Rainey Auditorium at the Metropolitan Museum, but I can't find the reference at the moment, and I'm not sure he spoke about it or if it's just something I remember).
But saying that seems to imply Ralph would have wanted to go to the Met from self-interest which, from my experience, would have been just about as far as we could get in describing Ralph's personality. He was not that way at all.
But he did have opinions, many of which are discussed in the documentary and in the writings about Ralph and his work and what he thought about other people's work.
The story of how I got involved in the documentary is perhaps of interest, at least from my point of view, because it's one more example of those serendipitous things that seem to happen as we go through life. For some reason, I heard that one of Ralph's buildings (the West 18th St. Telephone Building, now called Walker Tower) was to be re-purposed into residency apartments – makes sense, doesn't it, now that communication technologies have changed so drastically since the building was built in 1931? – and that an exhibition about Ralph's work was installed in the lobby of the ground floor of the building. So Andrew and I made an appointment (required) and went to see what we could see.
Walker Tower
We were thrilled. Even, perhaps, mesmerized (might be a better word for what we experienced) as we took in the very well-designed and well-installed items that made up the exhibition. Andrew is an amateur architecture historian specializing in American and, especially, New York architecture, so there I was – in the first exhibition ever about the work of someone I knew so well early in my life, and I had my own private expert to show me around.
We also had a very knowledgeable guide – whose name I've since lost – who give us a very informative background and introductory talk and then just turned us loose to walk around through the exhibit. We had a grand time and spent – I would guess – more time with the exhibit than any other visitors who came to see it. And as there was no one else there when we were, we just took our time.
The exhibition was called "Ralph Walker: Architect of the Century" and had been curated by Kathryn E. Holiday of the School of Architecture, University of Texas, Arlington (she also wrote the beautiful limited-edition catalog – published by Rizzoli in 2012 – which itself is turning out to be a valuable reference for studying Ralph's work).
We reluctantly finished our time with the exhibit, and as we were preparing to leave, the guide commented that although she hadn't been eavesdropping she did notice that I seemed to know a lot about Ralph and his work. I went into my "I'll-be-modest" routine but Andrew encouraged me to tell her more about knowing him when I was a young man.
So I jumped in and had a fine time talking about how I knew Ralph in the late 1960s and early 1970s, and it was from that conversation (I assume) that my name got to the producers at WNET's "Treasures of New York" series. When they decided to put together the documentary, I was contacted and spent a delightful afternoon speaking about Ralph with one of the WNET Executive Producers at my home. That led to a call from the show's producer who indicated that the program needed someone who knew Ralph personally (I think they had plenty of academic and technical and architectural experts) and we were on our way.
Great fun, and as I've thought more about Ralph and his life and knowing him, I'm hoping to continue this commentary with some of Guy's thoughts about his writings, some of his philosophy and experiences that he shared with me (he was a marvelous story teller). Stay tuned.